Brian Badzmierowski
Digitalization is sweeping through the Cambodian economy and the insurance sector is especially poised to benefit from the adaptation of new financial technology (FinTech) capabilities.
Affinity Star Insurance Brokers, a merger between Cambodia Investment Management Holdings (CIM) and Affinity Star Investment launched late last year and is embracing new tech as a means to distribute insurance to as many individuals and businesses as possible in the country.
CIM has long championed innovative tech in the sector and launched the Kingdom's first online insurance quote system in 2017.
Javier Neo, one of Affinity Star Insurance Brokers co-founders alongside Cambodia Investment Management Group CEO Anthony Galliano, said the firm is looking forward to the government opening regulatory doors that would allow the digital distribution of insurance, especially in B2C products such as motor, travel, and health insurance. 
Currently, the distribution channels for insurance in Cambodia are traditional and limited, he said.
"We are looking at online insurance by using financial technology and blockchain technology. It is currently lacking here. We want to make insurance simple and convenient for the general public, especially in the provinces," Neo said.
In addition to promoting the remote sale of insurance, Affinity Star Insurance Brokers plans on opening physical offices in Siem Reap and Sihanoukville this year.
Galliano said the insurance market in Cambodia is still in its early stages with low penetration rates in the consumer sector and there's an opportunity for companies that can upgrade their marketing and sales delivery.
Embracing FinTech and allowing for wider adoption of e-payments could be a boon for the industry as more consumers become comfortable with remote shopping.
"Most businesses are gravitating towards cashless, and to a degree, the industry is directionally getting there, with bank transfers more and more replacing cash and checks. However, this should gradually advance further with payments received through websites or applications with the support of payment service providers and banks," he said.
Affinity Star Insurance Brokers increasing insurance awareness through tech
Currently, consumers have to approach an insurance company or broker in-person to purchase a policy. With most insurance companies and insurance brokers concentrated in Phnom Penh, Siem Reap, and Sihanoukville, Neo said this can create issues for consumers based in provinces far from cities.
The importance of an intermediary like Affinity Star Insurance Brokers, Neo said, is that it protects both the consumer and the insurance company's interests. Whereas CIM formerly partnered with a sole insurer, Affinity Star will offer insurance policies from every insurance agent in Cambodia.
"We see the need for insurance brokers because of the lack of knowledge about insurance. We need to educate consumers on insurance. Insurance starts with educating consumers on what to buy and how to buy it properly," he said.
Customers often aren't sure which insurance they need and end up with an ill-fitting policy, such as a company seeking specialized liability insurance that purchases public liability insurance instead, he added.
Affinity Star will safeguard Insurance companies by performing thorough background checks on consumers, a service that the firm hopes will be offered remotely by utilizing blockchain technology.
Once the government starts approving remote policies made available through this technology, insurance adoption should experience a dramatic rise, Neo said.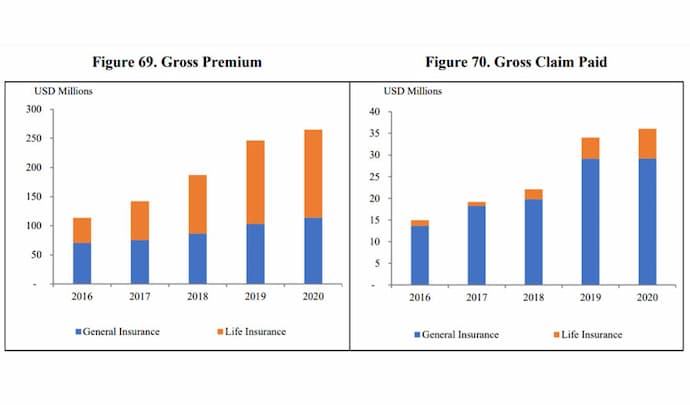 Another important factor to increasing insurance penetration is teaching customers how to process claims because when consumers successfully learn how to claim benefits, they will have more faith in the system, he added.
Sharing information through technology will also help insurance become more mainstream, according to Galliano.
"Video content delivery should be optimized in educating consumers on insurance products and their benefits, providing updates on the industry and new products, availing price transparency and comparison, and helping customers navigate the complexity of different types of insurance and their terms and conditions," he said.
The value of insurance in Cambodia with Affinity Star Insurance Brokers
Affinity Star Insurance Brokers current core business focuses on offering general and specialized insurance to companies in the manufacturing industry.
Specialized insurance options are still limited in the Kingdom and there's a need for policies on marine hulls and machinery, as well as specialized liability policies for freight forwarders.
Neo said opening up regulations more would allow more foreign companies to enter the market, a move that would help diversify the products currently available.
However, he said the current market offers ample options that should be considered by individuals and businesses to protect themselves from accidents and catastrophic events.
Agricultural and manufacturing businesses, many of which are uninsured in Cambodia, should consider it their social responsibility to buy insurance, as remaining uninsured leaves them open to a wide range of disaster scenarios, he said.
In addition, compulsory motor insurance could dramatically reduce cases where victims of accidents are left without a safety net when faced with medical expenses.
Families should consider the health, life, and savings policies currently offered on the market as well, he added.
A middle-income family, for example, can purchase a savings plan which can secure their financial future by paying back dividends and offering lump-sum payments if the customer experiences an accident or ill health.
Likewise, personal accident insurance can ensure families are not drained of savings when an accident occurs and health insurance, which can be offered by life or general insurance companies, can dramatically reduce out-of-pocket medical expenses.
Mainstreaming insurance in Cambodia
Galliano said making insurance mandatory in certain cases could be the next step in the evolution of the sector in Cambodia.
"Mandatory insurance for certain properties and services would boost the industry. Presently only commercial vehicles are required to have insurance by law, it is anticipated that private vehicle insurance will be mandatory in the future.
Increasingly, professional indemnity insurance is being required for licenses, and that's a positive step. Construction insurance is essential, and should be vigorously enforced," he said.
The firm is also focused on sharing its experience and knowledge with insurance professionals in Cambodia, Neo said.
Galliano added that delivering the products professionally with high levels of transparency was a top priority for the firm as it makes its mark in the growing brokerage industry.
"First and foremost, our philosophy is the highest degree of professionalism in dialogue with customers on offering insurance products and services. The market must have high standards of transparency, clarity, and trust. The future, if not the present, is digitalization and the market needs to embrace this," he said.
The firm's ultimate goal, he said, "is to make insurance simple, and allow consumers to obtain insurance as painlessly and conveniently as possible, regardless of where a consumer may live in Cambodia."