Gareth Johnson
In a meeting with Cambodia Investment Review, Hiroshi Uematsu CEO of the Phnom Penh Special Economic Zone (PPSEZ) spoke about the importance of Special Economic Zones to the Cambodian economy, as well as the specific benefits of relocating to the PPSEZ.
Background of Special Economic Zones in Cambodia
Initially approved in 2005, with implementation beginning in 2006 the Special Economic Zones (SEZs) of Cambodia were established to provide businesses within each zone several financial incentives including income tax, customs, and VAT relief as well as to be a "one-stop service for imports and exports".
Since the implementation of the law 22 SEZ's has been established within the Kingdom, from Phnom Penh to Sihanoukville, and importantly border cities such as Svay Rieng and Poipet to facilitate cross-border trade. 
Currently, the SEZ's of Cambodia is a mixture of government and private entities.
The PPSEZ, was one of the first established in 2007 and remains one of the most important within the country. Hiroshi Uematsu stated he has been part of the project since its inauguration, becoming CEO in 2010.
Although not fully Japanese owned, it was initially Japanese firms and investment that led to the creation of the zone with Hiroshi adding: "The company was originally set up with 49% Japanese and 51% Cambodian owned entities. We have since worked closely with the Japanese government agencies such as JETRO, JICA, and of course the Japanese Embassy to attract Japanese manufacturers."
Most recently, Inter Logistics (Cambodia), a subsidiary of Royal Group of Companies (RGC) purchased 45.09% of the publicly listed company for approximately $16 million as previously reported by Cambodia Investment Review.
The purchase also led to Neak Oknha Kith Meng of RGC becoming company chairman with Hiroshi stating: "With this new investment we are now committed to further upgrading and expanding our SEZ by maximizing synergy within the RGC".
The recent investment comes off of the back of the PPSEZ bouncing back strongly from the economic impact of the pandemic. The company recently reported 2021 Q4 earnings of over $6 million and annual earnings of over $10 million, according to a filling in the local stock market this week.
Cambodia as a regional player in the SEZ scene
SEZ's of course are far from a Cambodian invention and have been used extensively around the world as a vehicle for countries to open up their economies globally. This concept was famously used by China's Deng Xiaoping as he transitioned the communist country to a market economy.
China's success with SEZ's has therefore spread the concept throughout the region, with competition now between nations to attract international investors and manufacturers.
One of Cambodia's key advantages compared to other regional neighbors according to Hiroshi is Cambodia'sgeographical location. "Cambodia is located in a strategic position between Thailand and Vietnam so manufacturers can consider moving production here to mitigate their risks. From a Japanese point of view, we also consider Cambodia to be extremely politically stable."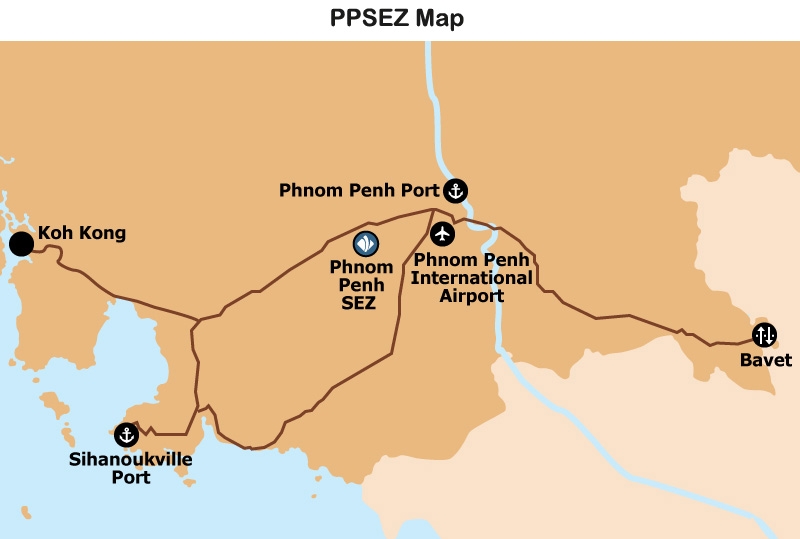 He added: the coup's in Myanmar and Thailand, anti-Japanese riots in China, as well as the relative lack of natural disasters in Cambodia, compared to other countries within Southeast and East Asia to emphasize this point.
Within Cambodia's SEZ zones the differing locations and focuses of the zones have meant that there is some scope for cooperation between them, with Hiroshi stating: "We occasionally communicate with other active SEZs to exchange our experience and ideas."
Although in essence, they are still in competition with each other, Hiroshi is keen to point out why businesses should relocate to Phnom Penh, rather than other zones within the Kingdom.
Creating more value added products
"So far, in the capital, PPSEZ is considered the only one SEZ which meets international standards. Our mission is to create good accommodation for global manufacturers who are producing higher-value-added products such as automobile parts, electronics parts, etc. Through these efforts, we now accommodate Ajinomoto, Denso, Minebea, Sumi Wiring Systems, and more," Hiroshi said.
These investments by Japanese global manufacturers have led some American investors such as Coca-Cola and Tiffany & Co.'s to choose the PPSEZ. In recent years, we have also started to accommodate some Chinese investors to produce high value-added products such as fiber-optics, plastic parts, as well as solar panels," he added.
While PPSEZ now has some American investors it is still mostly dominated by Asian manufacturers, with Hiroshi stating that cracking the western market was a company priority.
"We want to work with some of the international business chambers of commerce and other western organizations to become as well known as we are in Asia. We see westward expansion as part of our growth plans for 2022," Hiroshi said.
Plans that he feels can only be helped by the recent investment from RGC.